Skip to Content
"Shhhh It's a Surprise: A New Concrete Garage Floor Coating!"
Every customer we work with has a story behind why they choose to invest in protecting their concrete floors with our Polyurea based concrete floor coating system. Sometimes they come to us with a plan that is truly a surprise.
In the Fall, we met a wonderful customer in Alexandria, KY who wanted to do something "really special" for her husband, but she wanted to make it a surprise. She had done her research and after meeting our Sales Manager Amy, she fell in love with our Polyurea based concrete coating system and with the Fortress Floors Midwest Pro Team. She was excited to learn that our product was 4 times stronger than an epoxy concrete coating, 100% UV Protected against fading, warrantied against peeling or chipping, and that we would work with her to ensure this transformation was the best surprise ever! She even went and checked out a church where we had recently coated their concrete porches located in her town. (that is a story for a future blog)
Together, Amy and our customer began to assemble the plan.
After Amy measured the garage, front porch, & front sidewalk, it was decided that coating the concrete floors & surfaces for all those spaces would make for a perfect gift for her husband. There was one big issue, one of the corners of the sidewalk was completely cracked and broken off. However, with our proprietary Fortress Fix product and the skill of our team, Amy assured her that once we were done, that corner would look great and be stronger than it was when it was brand new.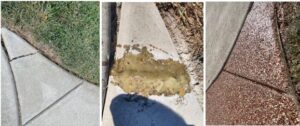 The next big decision, what color flake should she choose? Working with Amy, our customer reviewed our 14 standard flake color samples, she choose
as it looked amazing alongside her red brick home.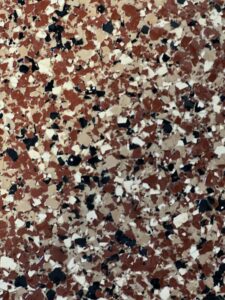 Together they also decided to add our Shark Grip product to the sidewalk and front porch adding to the slip resistance nature of our system.
Now it came time to schedule, our customer wanted to pick a time when her husband was away on business, she and Amy worked to find the perfect date for the installation. We typically install Garage Floors in 1 Day, but with the added front porch and sidewalk it was decided that we would take 2 days.
The installation process went extremely well. Our customer had her son remove the items from the garage and our guys were able to complete the process as planned.
The results, stunning!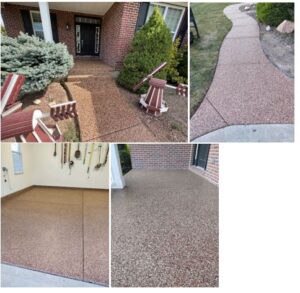 And our customers Husbands reaction, priceless!

When we started our company, we pledged to treat our customers like they were our family. After working with this customer, we felt like we made some new family members.
Fortress Floors Midwest Pro is a family owned and operated Cincinnati based concrete floor coatings company serving Cincinnati, Dayton, Kentucky, & Indiana. We specialize in coating garage flooring, basement concrete floors, concrete patio floors, pool decks, commercial floor coverings and more. We offer a Polyurea based concrete floor coating system that is 4 times stronger than epoxy concrete floor coatings or epoxy coatings. Our garage floor coatings can be installed in just 1 day making our product the perfect garage floor covering.
#strongerthanepoxycoating, #15yearwarranty, #100% UV Protected, #Cininnati, #Dayton, #Kentucky #garages #basements #patios #commercial #residential #pooldecks #1daygaragefloors