Skip to Content
Transforming The Church's Entrances Concrete Floor Coatings
Have you ever driven past a home, church, or business and have a negative impression?  You cannot quite put your finger on it, but it looks warn and dated? We came across just that at a church in Northern Kentucky. The Head of the Trustees contacted us because many years ago indoor/outdoor carpet installed on their concrete porch and entrances. Over time the weather and foot traffic took its toll and made the concrete floor entrances unsightly and even unsafe. They say the first impressions are everything; we would argue that the entrance to a business, home, or church creates that first impression. Our goal, to transform their spaces and create that wow impression for everyone who entered while adding protection and safety for years to come. Some of the many benefits of our product that our customer loved was the fact that Polyurea is 100% UV protected against fading, stronger than epoxy, slip resistant and will not peel or flake off. Our Fortress Coatings was the best solution to their needs.
Here are the before photo's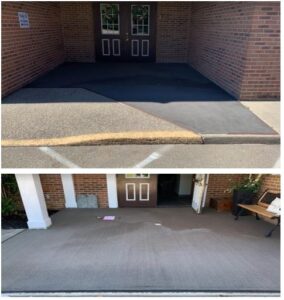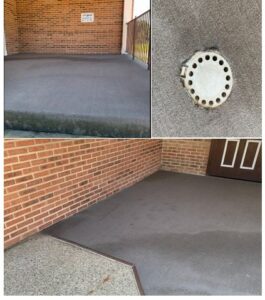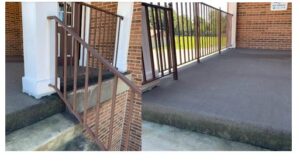 The first step was removing the old carpet. After years of being exposed to the environment, that was quite an undertaking, but our guys made it happen! Under the carpet was layers of glue and dirt. Our team expertly ground off the glue and created a clean concrete surface for applying our Polyurea Base Coat which is 4x's stronger than epoxy.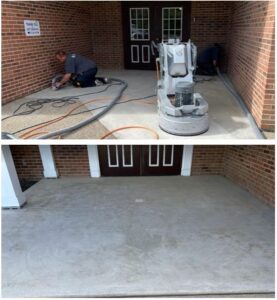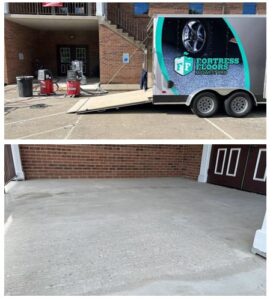 The color Pecan was selected because of how it complimented the red brick exterior of the church.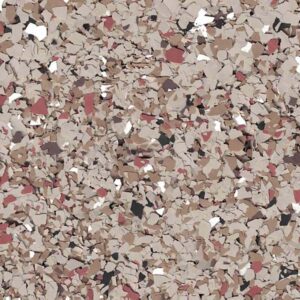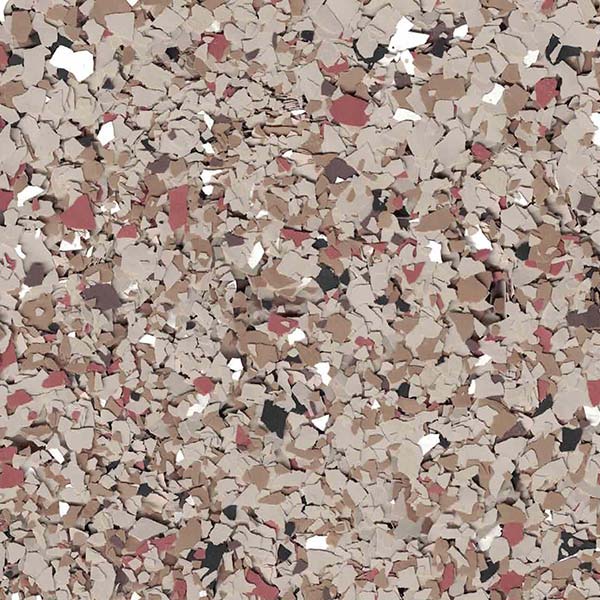 Once the Pecan flake was applied, our team finished off with the Polyaspartic top coat. 24 hours after we finished the top coat, our customers could walk on their brand new, strong, beautiful porches.
Now when you walk up to the entrances, Wow is the word that comes to mind!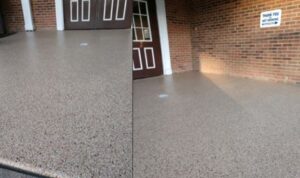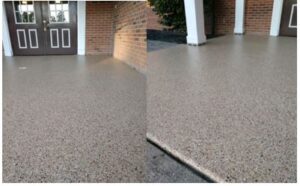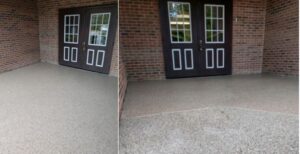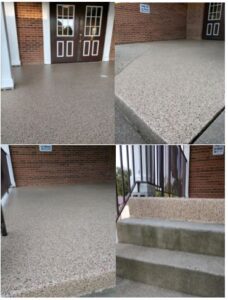 The Before and After is amazing!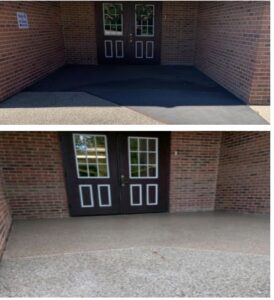 About Fortress Floors Midwest Pro
Fortress Floors Midwest Pro is a family owned and operated Cincinnati based concrete floor coatings company serving Cincinnati, Dayton, Kentucky, & Indiana. We specialize in coating garage flooring, basement concrete floors, concrete patio floors, pool decks, commercial floor coverings and more. We offer a Polyurea based concrete floor coating system that is 4 times stronger than epoxy concrete floor coatings or epoxy coatings. Our garage floor coatings can be installed in just 1 day making our product the perfect garage floor covering.
#strongerthanepoxycoating, #15yearwarranty, #100% UV Protected, #Cininnati, #Dayton, #Kentucky